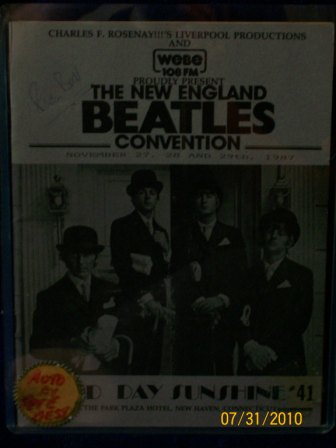 This is a photo of a Pete Best autograph on a 1987 fan club convention pamphlet.  Pete Best was the first drummer of The Beatles, replaced by Ringo Starr during the recording of "Love Me Do."
I have met Pete Best before, and he is a rather nice fellow, especially considering he got a bit of a raw deal with being booted out.  :-/  I love Ringo, but it still stinks for Pete.
Born in November, 1941, Pete Best lived in Liverpool as a child, as did all of The Beatles.  He joined the band in August of 1960, and was asked to leave the band around August 1962.  Unfortunately, Pete states that he never received an explanation as to why he was replaced.